My flight from Seattle was on one of the clearest days I have ever flown. Mount Rainier was absolutely stunning out of the port window. I was straining to try and see individual climbers on this treacherous peak that has already claimed the life of one climber this season. Whenever I fly over this vast expanse of rugged mountainous terrain that makes up our western edge I think about a friend who walked the entire length of it from Mexico to Canada. I'm not much of a walker but this summer I'm going to hike a lot more. I plan on mountain biking as much as I usually do, so this means I'm going to have to get out of town a lot more often.

I spent the past weekend in Phoenix, Arizona. It was sunny and very warm as you would imagine. I took a short hike up into the desert foothills on the outskirts of town. It was only a couple miles, but there was enough of an elevation gain to give commanding views of the valley that holds the entire city. I have traveled around quite a bit in this part of the country and I am already making plans for a more extended hiking trip in southern Arizona and the adjacent Mexican state of Sonora this fall. I stepped a few feet off the trail to take a picture of the charming saguaro cactus you see posted below.

On the plane I had been reading Cormac McCarthy's final book in his border trilogy, Cities of the Plain and was feeling nostalgic for this part of the country where I had spent a very happy part of my youth. His writing had me chomping at the bit to break off into the desert and head for Mexico. I wanted to eat tortillas and beans and make a camp fire. I was sorry that I didn't have time to make a proper foray into the desert but I thoroughly enjoyed this short day hike with my brother-in-law, a great guy who always laughs at my jokes (and I at his).

Yesterday I took a short hike in the Cascades directly east of Seattle. We pulled off at a random forest service road and found the trail head to McClellan's Butte. Don't quote me but I think that the picture below is of this snow-capped mountain that tops out at 3,200 feet. There were only two cars at the trail head and both parties were finishing up as we started.

A couple of summers ago I was sitting on my camp stool with my feet in the river featured in the picture you see below. I was smoking a cigar and reading David Guterson's novel East of the Mountains. In the book the protagonist was driving east from Seattle along Interstate 90 and describes the mountains that lie on either side of the highway where I was now sitting. He mentioned McClellan's Butte. I looked up and it was right there in front of me and I took a picture. I have spent a lot of time in this area of the Cascades and I have seen trail postings for the butte but I never knew exactly where it was until Guterson pointed it out to me. He's obviously spent some time in this area.

We put on our packs and started up the trail in a fine mist that didn't even penetrate the forest. I didn't bring rain gear and didn't really feel like hiking in the rain anyway. I did bring my camera, binoculars, and birding book. My friend brought a thermos of coffee. We both were too lazy to go climbing somewhere. I felt slightly hung over and skipped my work-out at the gym so I was just looking to breath in some fresh air and pump a little blood through my veins.

We sat down in a weird-looking hollow that was like something out of the Lord of the Rings. The mist gave the place and even more haunted feel. We drank coffee and listened to an owl hoot. We hooted, it hooted back, it came a lot closer, and hooted again. We didn't see it in the dense forest, and I couldn't identify it by its call--so much for my career as a birdwatcher.

We called it quits after a few miles and so never reached the snow line that was supposed to be at 2,700 feet (I love standing in snow at this time of year). I usually don't get let off the hook so easily with this guy who walked from Mexico to Canada. Sometimes it's good to just get out in the mountains. It's always good to get out in the mountains.

Looking towards Mexico from Phoenix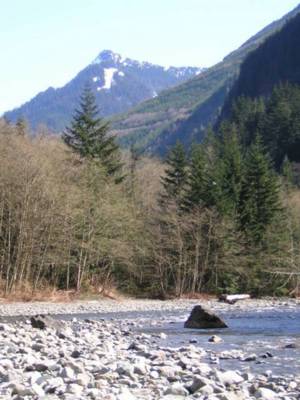 m

McClellan's Butte--25 minutes east from my apartment in downtown Seattle.
DON'T YOU WISH YOU LIVED HERE?